Change Management: Implementation of an Online Delivery Tracking System
Guest lecture about managing change / change management in a UK SME: Implementation of a micro SCM system / Onlne Delivery Tracking System
•
Austen Jones
•
Leeds Metropolitan University
•
Saftronics Ltd
website:                 www.leanscm.co.uk
Presentation Structure
•
Overview of Saftronics and its Products
•
Explain how Production is undertaken highlighting importance of Metalwork
•
Outline Metalwork ordering process
•
Problems associated with Metalwork
•
How problems have been reduced
•
Lessons learned from the implementation
•
Conclusions
About Saftronics Ltd…
•
Established 1979
•
Management buyout 2001
•
130 staff
•
33,000sq ft factory
•
£7-8m turnover
About the Products…
•
MCCs / Control panels
•
Assembled rather than 'manufactured'
•
Products are 'unique'
•
Assembled from standard parts
•
12 week delivery time
•

Average order ~£20k
About the Products…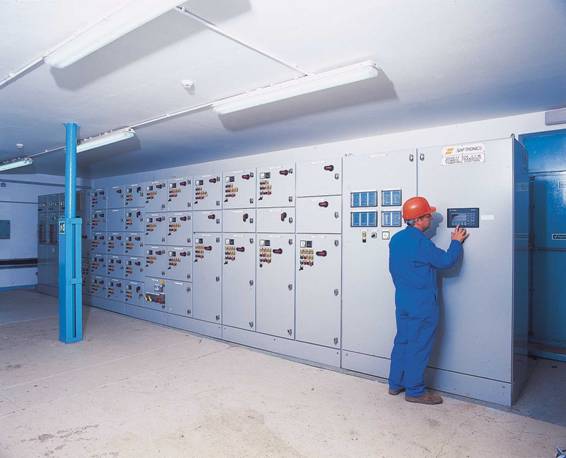 •

Large metal cabintes comprising metal doors and wired metal backplates populated with electrical components
•

Production unable to start until the metalwork items have been delivered from the supplier
•

Production of the metalwork items is the task on the critical path of each job that has the longest lead time
Metalwork Ordering Process…

Metalwork Process Problems…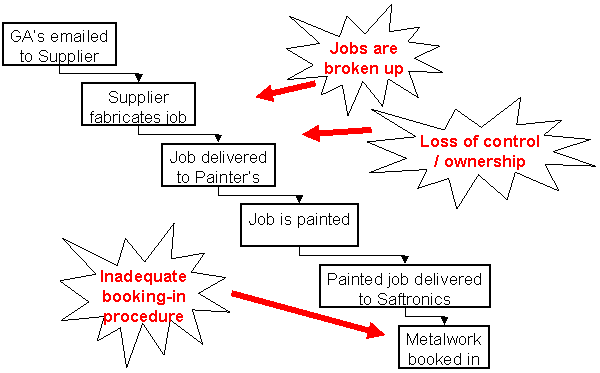 Metalwork Problems…
•

metalwork delivered late
•

metalwork not delivered complete
•
unknown what will be delivered when
•
unknown what is outstanding
•
no measures in place
Metalwork Improvement Opportunities…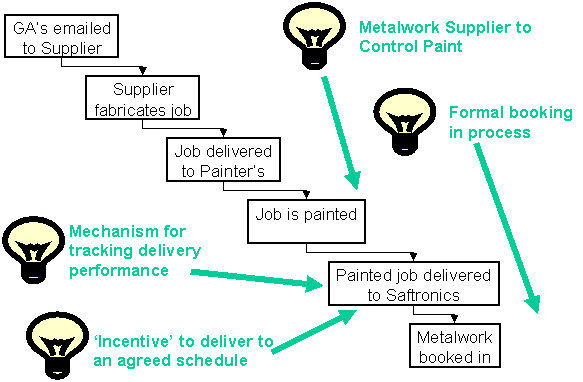 Ensuring on-time deliveries…
•
Control of Paint process given to Supplier
Ø
Agreed realistic delivery dates
Ø
Pay Supplier on 30 days rather than 60 days
Ø
Pay Supplier a modest 'management fee'
Ø
Supplier became accountable for delivery date adherence
Ø
Supplier fined for late deliveries:
Ø
£100 one off charge (per late job)
Ø
1% order value per day
Tracking Delivery Performance…
•
New system needed to:
Ø
Record when metalwork orders are placed!
Ø
Record Actual delivery dates
Ø
Be easily accessible to a variety of people
Ø
Be up-to-date and centralised
Ø
Track individual parts rather than just jobs
Ø

Provide accurate information for Planning purposes to both parties
Ø
Be accepted by the users!
•
Database system + Web-based access
Tools Used & Assistance…
•

Database: MS Access 2002
•

Web interface: Macromedia Dreamweaver MX
•

Domain name and web hosting: me-too.net Ltd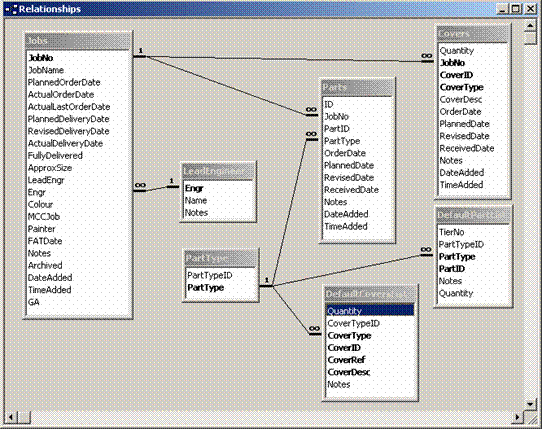 Screen Shots – Performance Indicators…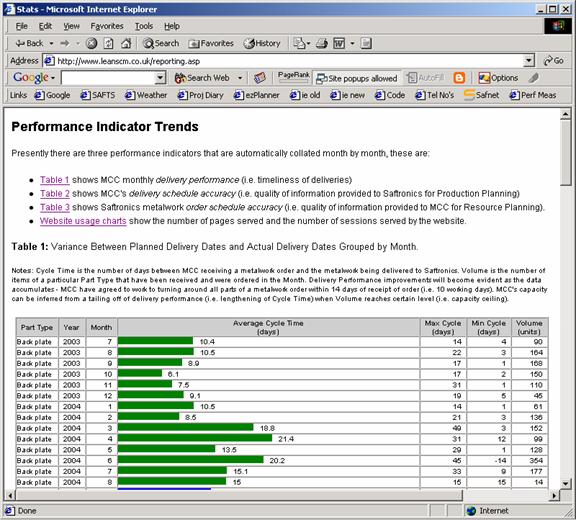 Implementation & Change Management… What I did Wrong!

Implementation & Change Management… Lessons Learned!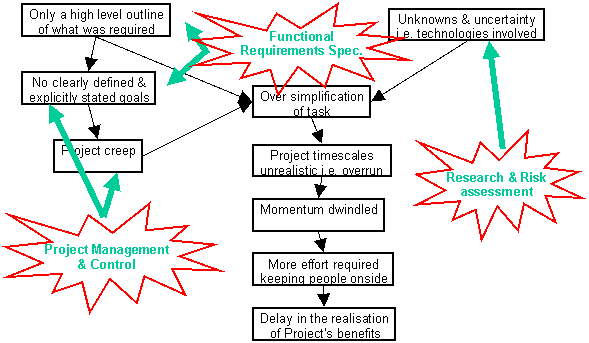 Implementation & Change Management… What I did Right!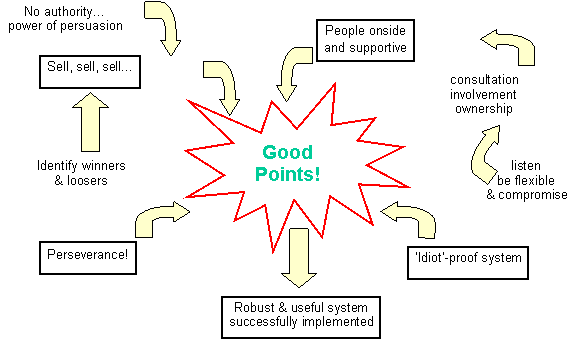 Conclusions about Managing Change…
•
Easily accessible and editable information held centrally is a boon as it provides the Planning functions with up to date, relevant and visible information that enables informed decisions to be made.
•
Enables meaningful planning of jobs
•
Delivery performance measurement now possible
•
System implemented successfully… but later than expected.
•
Importance of mistakes and reflection.
Acknowledgements…
B O'Toole & D Webb
Leeds Met
J Robinson
Saftronics Ltd

4ETO:
4
ETO Home Page
Contact 4
ETO
ERP:
ERP Software Modules
ERP Business Processes
ERP Dictionary by Category
Papers & Articles:
Index of Articles
ERP Training
CIM Seminar
ERP TNA Development
ERP Education
Computerised ERP TNA
Operations Improvements
Change Management
Production Planning Systems
Supply Chain Optimisation
S&OP and SCM
SCO Software
micro SCM Implementation