Development and Implementation of Production Planning / Management Systems in a SME
Overall Project Objectives:
Design & implement new production management systems.
Train staff and provide support for new system.
Achievements To Date:
Designed and implemented a multi-user Projects Diary tool (middle bottom) – tracks activity and actions required.
Designed and implemented an online Supply Chain Management module to assist Production Planning (far right) – benefits include: higher quality and more timely information for Planning and reduced time spent expediting parts.
Initiated the Weekly Progress Meeting between Production, Planning and Engineering – improved quality and speed of communication between departments resulting in smoother Project flow and early warning of potential problems to allow pre-emptive action.
Performance measurement specification framework developed (below).
Report of 61 suggestions for improvement presented to Directors over 50 of which have been approved for actioning.
Hands-on experience in role of Production Manager.
Paper presented at the International Conference of Manufacturing Research 2003 - "Impact and effectiveness of a change agent in the development of the operations systems in an SME".
Online Supply Chain Management Module:
Real time and higher quality communication with key supplier for improved Production Planning and reduced delivery lead times.
Systems Developed and Implemented in 2004:
Development of the 'Critical Path Scheduler' that dynamically replans projects based on actual dates past milestones were achieved (left bottom).
Implemented supplier performance analysis functionality to assist management decision-making in respect of key supplier late delivery charges (top middle).
Development and implementation of a performance measurement framework and intranet reporting system (middle centre).
Development of the www.4ETO.co.uk website which is becoming a portal for engineer to order companies and also offers a fast, novel and very cost-effective method of MRP / ERP system selection for manufacturers (middle bottom).
1. Critical Path Scheduler: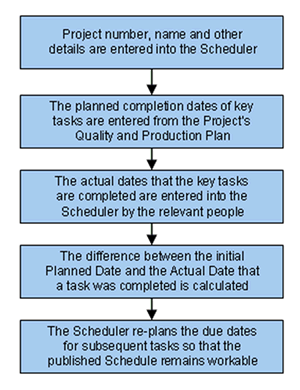 2. Key Supplier Performance Measurement:
Amicably agreed contract put in place between Saftronics and key supplier: Supplier paid a higher rate for product but if they delivered late they would be subject to late deliveries charges.
System calculates the difference between the Order Date and the Delivery Date of each part of a job and where the gap is greater than the agreed turn around time of 2 weeks the potential chargeback is calculated as follows: £100 + 1% contract value per day late.
Management provided with additional info and drilldowns to aid decision-making about applying the charges.
All potential charge-backs are calculated and a month by month summary bar chart is calculated and displayed.
All potential charge-backs are calculated and a month by month summary bar chart is calculated and displayed.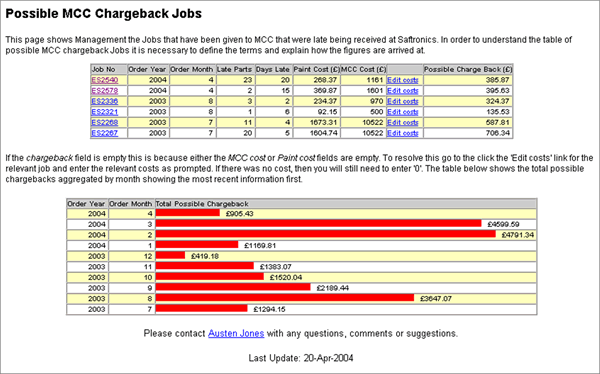 3. Performance Measurement Framework:
All people on the intranet are able to view the performance measures in dynamically created bar chart format.
Mousing over a recorded measure on a bar chart displays the notes associated with that particular measure (i.e. so exceptions can be explained.
'Owners' of measures are able to add new measure values and to redefine certain aspects of the measure such as Measurement Frequency, Target and so on.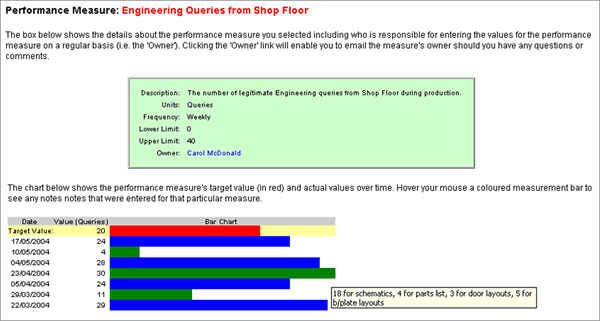 4. 4ETO: Engineer-to-Order Portal Website:
All people on the intranet are able to view the performance measures in dynamically created bar chart format.
Mousing over a recorded measure on the bar chart displays the notes associated with that particular measure (i.e. so exceptions can be explained.
'Owners' of measures are able to add new measure values and to redefine certain aspects of the measure such as Measurement Frequency, Target and so on.
Domain name & web hosting provided by www.me-too.net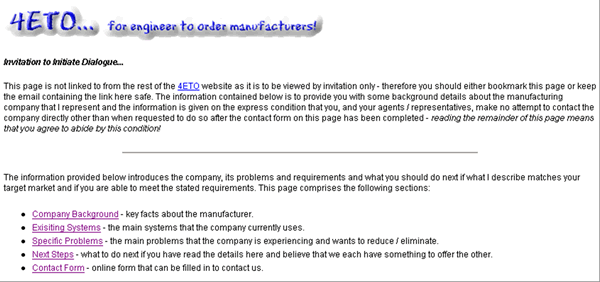 4ETO:
4
ETO Home Page
Contact 4
ETO
ERP:
ERP Software Modules
ERP Business Processes
ERP Dictionary by Category
Papers & Articles:
Index of Articles
ERP Training
CIM Seminar
ERP TNA Development
ERP Education
Computerised ERP TNA
Operations Improvements
Change Management
Production Planning Systems
Supply Chain Optimisation
S&OP and SCM
SCO Software
micro SCM Implementation